Hi! My name's Ori, I like bicycles, hiking and camping, visiting art galleries, dancing, taking my dog to the park, and trying to combine all those things at once ;) I'm an engineer—not just from my education, or in my work, but also throughout my day-to-day life. You might know someone like that but if not you'll probably see what I mean in my posts.
I did a masters in engineering psychology on operating space robots and search-and-rescue robots with laser based sensors, and I've had the pleasure to work on interesting challenges ever since. If you need a freelance robotics engineer or human factors engineer in Toronto, Canada (or remotely), get in touch.
This website is my little way to give back to the world wide web. I'll write about topics that interest me and various projects I do, in hopes that it might be useful to someone out there. If you like what you see, you can sign up to a periodic email about new content (no spam and painless to unsubscribe), follow my fairly quiet twitter account, or subscribe to this website in your favorite RSS reader.
Thoughts and projects
Bicycles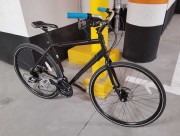 Engineering
Software
Contact
You can write to me via ori at <this domain>